Posterior skull base tumors, although uncommon, are nestled deep within the intricate anatomy of the skull base. These tumors demand specialized attention due to their potential to impact vital structures such as the brainstem, cranial nerves, and major blood vessels. While these tumors can be benign or malignant, their growth can lead to a range of neurological symptoms, potentially affecting hearing, balance, and even facial movement.
The significance lies in early detection, accurate diagnosis, and tailored treatment plans. Therefore, the expertise of a leading neurosurgeon in Mumbai, such as Dr. Gurneet Singh Sawhney, who excels in the intricate removal of posterior skull base tumors, plays a pivotal role in ensuring the best possible outcomes for patients. This involves preserving neurological function and enhancing their overall well-being.
"Are you seeking treatment for a posterior skull base tumor? For safe, reliable, and expert treatment options, visit Dr. Gurneet Sawhney, a renowned Neurosurgeon in India."
Symptoms of Posterior Skull Base Tumors
Symptoms of posterior skull base tumors can vary depending on their location, size, and type. Common symptoms include:
Persistent and severe headaches are a common symptom.
Tumors can affect the auditory nerves, leading to hearing loss, tinnitus (ringing in the ears), or vertigo.
Problems with balance, unsteadiness, and difficulties with coordination may occur.
Facial muscles can be affected, causing weakness or paralysis.
Tumors near the throat or upper esophagus can lead to swallowing difficulties and discomfort.
Changes in vision, including double vision or vision loss, may be experienced if the tumor affects the optic nerves.
Altered speech patterns, slurring, or difficulty articulating words can result from nerve compression.
Raised intracranial pressure can cause these symptoms.
Discomfort or pain in the neck or upper spine area.
In some cases, the tumor may irritate brain tissue and cause seizures.
"If you or someone you know experiences persistent or concerning symptoms,do not ignore them," cautions Dr. Gurneet Singh Sawhney. "Neglecting them can lead to severe neurological deficits, compromising a patient's quality of life."
"If you are concerned about the abovementioned symptoms, please consult Dr. Gurneet Sawhney, a highly qualified neurosurgeon in Mumbai, for precise diagnosis and tailored treatment strategies."
Posterior Skull Base Tumor – Diagnosis
Diagnosing posterior skull base tumors typically involves a combination of medical assessments and imaging studies. Here are the standard diagnostic methods:
Medical History and Physical Examination: The initial step is discussing the patient's medical history, including any symptoms and their duration. A thorough physical examination is conducted to assess neurological function.
Imaging Studies: Various imaging tests are instrumental in identifying and characterizing posterior skull base tumors. These include:
MRI (Magnetic Resonance Imaging) provides detailed images of the brain and skull base. They can help determine the tumor's location, size, and extent.
CT (Computed Tomography) Scans offer detailed cross-sectional images of the head and can provide complementary information to MRI scans.
Angiography may be performed to assess blood vessel involvement and blood flow within and around the tumor.
PET (Positron Emission Tomography) Scan may be used to determine the metabolic activity of the tumor and assess whether it has spread to other areas of the body.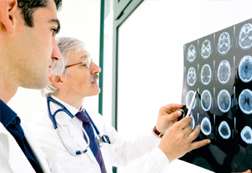 Hearing Tests: Audiometric tests are performed to assess hearing loss and its extent.
Biopsy: In some cases, a tissue sample (biopsy) may be necessary to determine the tumor's type and grade. This can help guide treatment decisions.
Neurological Evaluation: A comprehensive neurological assessment is conducted to evaluate nerve function and identify any deficits caused by the tumor.
Endoscopy: In some instances, endoscopic procedures may be used to visualize and access tumors through natural openings, reducing the need for extensive surgery.
Once a diagnosis is confirmed, Dr. Gurneet Singh Sawhney and his team of professionals ensure that patients receive timely interventions, ranging from surgical removal to radiation therapy, to preserve neurological function and improve long-term outcomes.
With over 18+ years of experience, Dr. Sawhney is often called the best neurosurgeon in Thane.
"Explore life-changing Skull Base Tumor treatments. Your journey to recovery begins with informed choices. Discover your options today."
Skull Base Tumor Treatment
"Skull Base Tumor Treatment options depend on several factors," explains an eminent neurosurgeon in Navi Mumbai, Dr. Gurneet Singh Sawhney. "They include the type, location, size, and stage of the tumor, as well as the patient's overall health and preferences."
Here are some common treatment modalities, along with their benefits, risks, and potential outcomes:
Surgery
Surgical removal of the tumor, either partially or completely, with the goal of curing or symptom relief.
Benefits: Surgery aims to eradicate the tumor or reduce its size, which can alleviate symptoms and potentially cure the tumor.
Risks: Risks include damage to nearby structures (nerves, blood vessels, brain tissue), infection, bleeding, and postoperative complications.
Outcomes: The outcome depends on the tumor type and location. Complete removal may offer a chance of cure, while partial removal may help manage symptoms and slow tumor growth.
Recovery: Recovery time varies but may involve hospitalization and rehabilitation for a few weeks, with a gradual return to normal activities.
Radiation Therapy
Precise use of radiation to target and control tumor growth, often when surgery isn't an option.
Benefits: Radiation therapy, including stereotactic radiosurgery, can target tumors precisely while sparing healthy tissue. It's often used when surgery is not possible.
Risks: Side effects can include fatigue, skin changes, hair loss, and, in some cases, radiation necrosis (damage to healthy brain tissue).
Outcomes: Radiation therapy can control tumor growth, alleviate symptoms, and extend survival for certain types of tumors.
Recovery: Typically an outpatient procedure with mild side effects like fatigue, and recovery depends on the patient's overall health.
Chemotherapy
Medications to shrink or slow tumor growth, particularly for malignant tumors.
Benefits: Chemotherapy may be used for certain skull base tumors, especially malignant ones. It aims to shrink or slow tumor growth.
Risks: Side effects vary but may include nausea, fatigue, hair loss, and increased susceptibility to infections.
Outcomes: The effectiveness of chemotherapy depends on the tumor type. It can be used alone or in combination with other treatments.
Recovery: Recovery varies based on the type and extent of chemotherapy, with possible side effects that may affect daily life during treatment.
Targeted Therapy
Specific drugs that target cancer cells or pathways, often with fewer side effects on healthy tissue.
Benefits: Targeted therapies specifically target cancer cells or tumor-related pathways, potentially with fewer side effects on healthy tissue.
Risks: Side effects vary by drug but can include skin problems, gastrointestinal issues, and hypertension.
Outcomes: Targeted therapies are used for certain types of skull base tumors and may extend survival or improve quality of life.
Recovery: Recovery is often quicker than chemotherapy, with fewer side effects on healthy tissues, allowing for a more normal routine.
Observation (Watchful Waiting)
Monitoring slow-growing tumors without immediate treatment, especially for benign cases.
Benefits: In some cases, slow-growing, benign tumors may not require immediate treatment. Regular monitoring through imaging can help assess tumor growth.
Risks: The risk is that the tumor may grow and require treatment in the future.
Outcomes: Observation is often chosen for tumors that are not causing significant symptoms and don't pose an immediate threat.
Recovery: There is no immediate recovery, but regular monitoring ensures the tumor doesn't grow or cause symptoms.
Palliative Care
A specialized medical approach focused on enhancing the quality of life for individuals facing serious illnesses by providing relief from symptoms, pain, and emotional distress, often through a multidisciplinary team of healthcare professionals.
Benefits: Palliative care focuses on symptom management and improving quality of life. It can be integrated with other treatments.
Risks: None; it aims to enhance comfort.
Outcomes: Palliative care can help alleviate pain, discomfort, and other symptoms associated with skull base tumors.
Recovery: Focused on ongoing symptom management and improving daily comfort and function, with no specific recovery timeline.
If you are considering getting treated for a posterior skull base tumor, please do not hesitate to visit Dr. Gurneet Singh Sawhney. He is among the preferred neurosurgeons for people seeking brain surgery in Mumbai.
Conclusion
Posterior skull base tumors, though relatively rare, can profoundly impact an individual's health and well-being. Located deep within the skull, these tumors often pose complex challenges due to their proximity to critical structures like the brainstem and major blood vessels.
Fortunately, advancements in medical science, coupled with the expertise of neurosurgeons like Dr. Gurneet Singh Sawhney, have significantly improved the prospects for diagnosis, treatment, and successful outcomes in managing these intricate conditions.
FAQ
1. Are posterior skull base tumors typically cancerous (malignant) or non-cancerous (benign)?
These tumors can be either malignant or benign. Some are cancerous and require aggressive treatment, while others are non-cancerous and may be managed with observation or less invasive treatments.
2.What are the common symptoms of posterior skull base tumors?
Common symptoms include headaches, hearing loss, balance problems, and facial numbness. However, symptoms can vary depending on the tumor's location and size.
3.Is surgery the only treatment option for posterior skull base tumors?
No, treatment options vary and may include surgery, radiation therapy, chemotherapy, targeted therapy, or watchful waiting. The choice depends on factors like the tumor type, size, location, and the patient's overall health.
4.Is it possible for posterior skull base tumors to recur after treatment?
Yes, in some cases, posterior skull base tumors may recur after treatment. The chances of recurrence depend on various factors, not excluding the type and stage of the tumor, the effectiveness of the initial treatment, and individual patient characteristics. Regular follow-up and monitoring are crucial to detect and address any recurrence early.