Malignant Hemispheric Infarction (MHI) is a severe type of stroke and a medical urgency demanding immediate attention. MHI, characterized by extensive brain tissue damage, not only poses immediate threats but also holds implications for long-term quality of life.
Do you want to combat Malignant Hemispheric Infarction with expertise and precision? Visit renowned neurosurgeon in India, Dr. Gurneet Singh Sawhney, for dedicated care and optimal recovery. Skilled doctors like Dr. Gurneet Singh Sawhney play a big part in giving extraordinary care that can help people dealing with this challenging neurological event.
Read on to understand the intricate mechanisms triggering this condition and the advanced treatment strategies that hold promise. This blog aims to unravel the layers of understanding surrounding MHI and its impact on patients and their families.
Understanding Malignant Hemispheric Infarction (MHI)
Malignant Hemispheric Infarction (MHI) is a severe and life-threatening type of stroke where a large portion of one brain hemisphere experiences ischemia, leading to swelling and increased pressure within the skull. This critical condition can cause neurological deficits, altered consciousness, and even coma. Immediate medical intervention is essential to mitigate brain damage and prevent complications.
According to Dr. Gurneet Singh Sawhney, known to many as the best neurosurgeon in Thane:
"Understanding the condition of malignant hemispheric infarction is important because it's a serious brain problem that can be life-threatening. Knowing about it helps people recognize the signs, get medical help quickly, and improve their chances of recovery."
Let us delve further to understand its causes and symptoms.
Common Causes of Malignant Hemispheric Infarction
Malignant Hemispheric Infarction (MHI) can be caused by various underlying conditions and factors, including:
Large Stroke: A significant blockage in a brain artery impacting blood flow to a large portion of the brain hemisphere can lead to MHI.
Blood Clots: Blood clots that travel to the brain can cause a blockage, triggering MHI.
Brain Trauma: Severe head injuries can disrupt blood flow, potentially leading to MHI.
Cerebral Edema: Swelling of brain tissue due to fluid accumulation, increasing pressure in the skull.
Cardiac Conditions: Heart problems like atrial fibrillation can result in blood clots that cause MHI.
Vascular Diseases: Conditions like atherosclerosis can narrow brain arteries, increasing MHI risk.
High Blood Pressure: Uncontrolled hypertension can damage blood vessels and lead to MHI.
Diabetes: Poorly managed diabetes can affect blood vessels, contributing to MHI risk.
Smoking: Smoking damages blood vessels, elevating the risk of MHI.
Hyperlipidemia: High cholesterol levels can lead to artery blockages and MHI.
Previous Strokes: Individuals with a history of strokes are at higher risk for MHI.
Recognizing and addressing these causes and underlying conditions are crucial for prevention and early intervention in MHI cases.
Please consult Dr. Gurneet Singh Sawhney, a respected neurosurgeon in Navi Mumbai, if you suspect you may be at risk of getting MHI.
Symptoms of Malignant Hemispheric Infarction
Symptoms of Malignant Hemispheric Infarction (MHI) can include:
Headaches that are sudden and intense.
Altered awareness causes confusion, drowsiness, or loss of consciousness.
Weakness or Paralysis on one side of the body.
Seizures characterized by sudden convulsions or fits.
Blurred or double vision.
Speech problems characterized by slurred speech or difficulty speaking.
Nausea and vomiting, primarily if increased pressure affects the brainstem.
Difficulty with balance and coordination.
Altered sensation causing numbness or tingling on one side.
Difficulty remembering or confusion.
Personality changes characterized by mood swings or personality shifts.
If you experience any of these symptoms, please seek immediate medical attention from a neurological expert like Dr. Gurneet Singh Sawhney. He can provide accurate diagnosis and tailored treatment strategies to prevent complications and improve outcomes.
Dr. Sawhney is among the preferred brain specialists for people seeking brain surgery in Mumbai.
Diagnostic Methods Used To Confirm MHI
The diagnostic methods employed by Dr. Sawhney to confirm MHI often include:
Imaging: Brain imaging techniques like CT scans or MRI to visualize brain structures and identify affected areas.
Clinical Evaluation: Detailed assessment of symptoms, medical history, and physical examination.
Intracranial Pressure Monitoring: Measures pressure within the skull to gauge severity.
Neurological Testing: Evaluating brain function, reflexes, and responses.
Treatment Options
The treatment for Malignant Hemispheric Infarction focuses on relieving pressure within the skull, preserving brain function, and preventing complications. Approaches used by the highly-skilled neurosurgeon in Mumbai, Dr. Sawhney, include: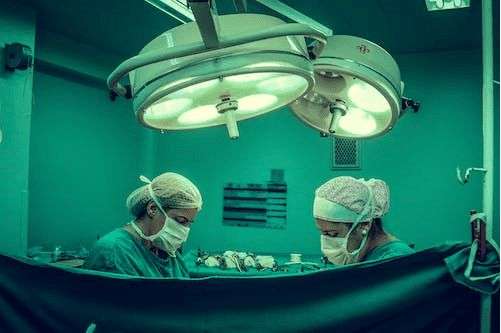 Medications: Drugs to reduce brain swelling, manage blood pressure, and prevent blood clot formation.
Hyperventilation: Controlled breathing to lower carbon dioxide levels and decrease brain swelling.
Hypothermia: Cooling the body to slow brain metabolism and reduce swelling.
Surgery: Removing part of the skull (decompression craniectomy) to relieve pressure or drain excess fluid.
Supportive Care: Monitoring vital signs, managing complications, and providing optimal brain and organ function.
Rehabilitation: After stabilization, rehabilitation to regain lost skills and functions.
Treatment decisions depend on the patient's condition, medical history, and severity of MHI. Swift medical intervention and expert care, like that offered by brain and spine specialists such as Dr. Gurneet Singh Sawhney, are essential to optimize outcomes.
Conclusion
Malignant hemispheric infarction is a severe medical condition that requires prompt and specialized intervention. Timely treatment is crucial to prevent irreversible damage and complications.
Patients are strongly advised to seek assistance from experts in the field, such as Dr. Gurneet Singh Sawhney, who has expertise and experience in managing complex neurological conditions.
If you or a loved one is living with MHI, don't hesitate to contact Dr. Sawhney for advanced treatment options, personalized care, and the best possible chance for recovery and improved quality of life.