Deep brain stimulation (DBS) is a surgical process used to treat various neurological problems, the most common of which are the disabling motor symptoms of Parkinson's disease (PD), such as tremor, stiffness, slower movement, and difficulties walking.
Dr. Gurneet Singh Sawhney has a wealth of experience in performing advanced neurosurgeries and DBS surgery in Mumbai. For his proficiency in complex brain surgery and other neurosurgeries, he is regarded as one of the best neurosurgeon in India.
DBS is a modernized version of an old procedure. Small sections of the brain were terminated within the thalamus (globus pallidus) in the previous surgery. Now, small regions of the brain can no longer be terminated with DBS in Mumbai.
Dr. Sawhney programs the DBS system to provide the patient with the best symptom control possible. The programming can be changed if the symptoms change over time.
Overview of DBS
Deep brain stimulation (DBS) is a surgery that involves the implantation of a device that provides electrical signals to the parts of the brain that control movement. The neurosurgeon places electrodes deep in the brain and attaches them to a stimulator device.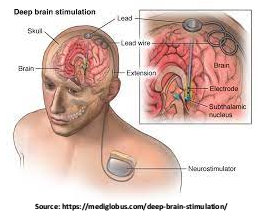 A neurostimulator, like a heart pacemaker, uses electric pulses to control brain activity. Parkinson's disease, dystonia, or essential tremor can induce tremor, slowness, stiffness, and walking issues, which can be alleviated with DBS.
Patients who get successful DBS in Mumbai can potentially lessen their drugs and improve their quality of life.
Which conditions can be treated with DBS?
DBS is used to treat a variety of neurological disorders, including:
Currently, neurosurgeons perform DBS for patients whose symptoms are uncontrollable with drugs.
Now, let's know,
Benefits of DBS
The advantages of deep brain stimulation (DBS) are numerous:
DBS does not cause permanent damage to any portion of the brain, unlike some other surgical alternatives.
As the patient's condition progresses or their response to treatments varies, the electrical stimulation can be adjusted and reversed.
Because DBS is reversible and does not cause permanent brain damage, it may be possible to use innovative, not-yet-available treatment options.
If DBS creates too many side effects, the stimulator can be shut off without any long-term implications.
Who can go for DBS?
Patients who are candidates for deep brain stimulation surgery commonly suffer from mobility disabilities. The patient's response to the drugs has deteriorated.
In this situation, the drug wears out before the following dosing cycle. In addition, the body becomes accustomed to the medications, resulting in a condition known as "Dyskinesias."
Deep brain stimulation may not be beneficial to a patient suffering from depression.
Let's discuss,
Procedure of DBS
Dr Sawhney can perform DBS surgery in Mumbai under local or general anaesthesia. The neurosurgeon fixes the skull with a hard frame. Then, they take a scan, and the surgical anatomical target is determined and coordinated.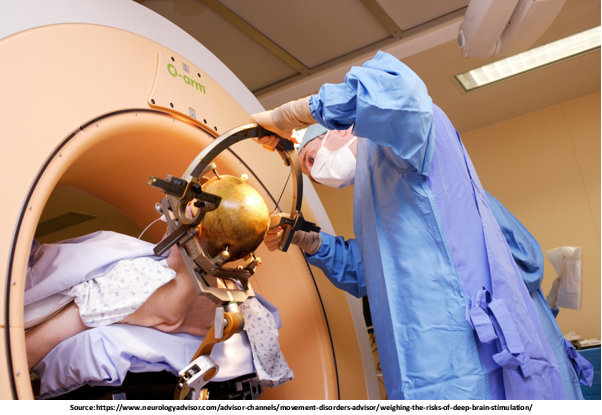 Over the frontal bone, the surgeon creates a burr hole in the cranium. The frame directs the advancement of an electrode toward the target. Uni- or bi-lateral placement of leads is possible.
Further, the surgeon tunnels a wire under the scalp. Then, down to the pacemaker, the leads are attached to the cranium. This is usually anchored to the fascia overlying the pectoralis major (similar to a cardiac pacemaker).
The neurostimulator can be turned on and off and customized to achieve the best symptomatic control using an external device.
Results & Success Rate of DBS
The disease cannot be treated with DBS. It just helps to alleviate pain and symptoms. As a result, the procedure is considered effective if the patients' symptoms reduce to a certain extent but are not entirely gone. As a backup, specific individuals may require medications.
The DBS has a success rate of 51%, with an average life span of 10 years depending on the severity of the condition before DBS.
Why Choose Dr Gurneet Sawhney for Deep Brain Stimulation in Mumbai?
Dr. Gurneet Singh Sawhney is a highly skilled and seasoned neurosurgeon specializing in complex neurosurgery.
Dr. Sawhney is regarded as one of the best neurosurgeon in Mumbai because of his consistent ability to do result-oriented surgery for debilitating neurological conditions.
Dr. Gurneet Singh Sawhney has gained over 14 years of experience due to his hard work, determination, and commitment.
If you seek a specialist in DBS surgery in Mumbai, reach out to Dr Gurneet Sawhney for the best surgical outcomes.